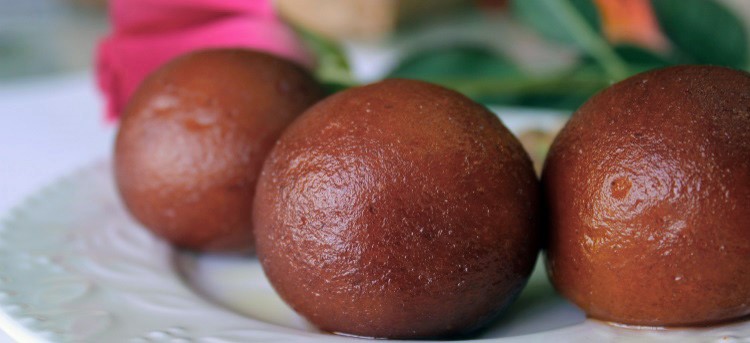 Gulab Jamun one of the most famous Indian sweets
Gulab Jamuns are one of the most famous Indian sweets along with laddoo, rusgulla and barfi. Soft golden brown and fluffy balls of heaven, our gulab jamun melt in the mouth, and are sweet without being oversweet. They are often served post-dinner as a satisfying dessert, when everyone comes together to sneak a delicious sugar syrup soaked ball into their mouth. Their cultural significance cannot be underestimated since they are a part of the food tray at every moment of singular importance, be it a wedding, a birthday party or just a small celebration.
We make gulab jamun with our signature recipe that yields perfect results every single time. Coupled with great workmanship, we bring you the best tasting gulab jamun that you can possibly find anywhere in Canada. We only use pure khoya in making our gulab jamun, and not milk powder. Milk solids are kneaded into dough, which is flavored adequately. Then they are fried at a particular temperature until the color is perfect, golden brown. At the final stage, these balls are soaked in rich sugar syrup.
Once we have prepared the sweet, we carefully wrap them in boxes, or with an assortment of other sweets, depending upon the customer's directions. Our gulab jamuns are one of our most popular products. We have established ourselves as a company that honors tradition, by making sweets just the way they have been made for centuries using age old recipes.